Radiation Oncology residents at UCSF gain exposure to a combination of varied attending staff and diversified clinical exposure. The clinical experience contributes enormously to the breadth and depth of education of our residents. As a result, our residents have the opportunity to study a range of areas in radiation oncology including Gamma Knife radiosurgery, intraoperative radiotherapy, high-dose rate brachytherapy, permanent brachytherapy, hyperthermia, ocular protons, and intensity modulated radiotherapy.
Four years of United States medical education or an ECFMG certification (for graduates of foreign medical schools).
A preliminary one-year internship in medicine, surgery, or a transitional year at an accredited institution is required prior to beginning radiation oncology training.
Possession of a California medical license by the end of the first year of Radiation Oncology residency training.
Clinical rotations are one or two calendar months long. In general, residents work one-on-one with an attending physician for one or two months at a time and they work with each attending physician approximately twice during the four-year residency. The American Board of Radiology requires Radiation Oncology residents to spend at least 36 months on clinical Radiation Oncology electives. Other rotations generally include one month of dosimetry/treatment planning and two months of diagnostic radiology, mini-fellowships, and/or research time.
Residents of the UCSF Radiation Oncology program rotate between 3 treatment campuses: Mt. Zion, Mission Bay, and Parnassus/Long.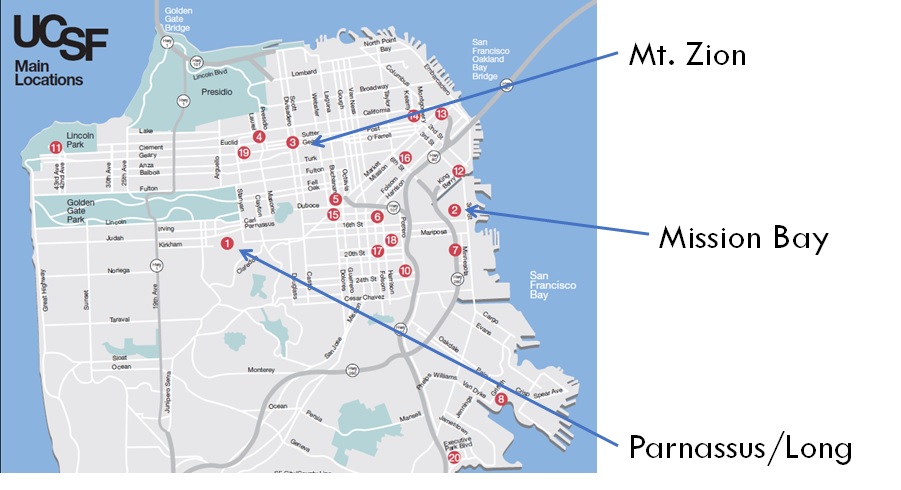 Learning Experience / Didactics
Our residents are important to us and we are committed to outstanding teaching at all levels of resident training. There are courses in Radiobiology and Physics specifically for first-year residents as well as twice-monthly Radiobiology or Physics lectures for all residents. Residents attend daily, hospital-based didactic sessions. These are held Monday through Friday at 8 AM. Many sub-specialty sections offer their own "one-on-one" teaching sessions in addition to the didactic sessions for all residents.
The educational experience is also strengthened by the participation of attending and resident physicians in a number of multidisciplinary clinics and multidisciplinary tumor boards. Also, many sub-specialty sections offer their own "one-on-one" teaching sessions.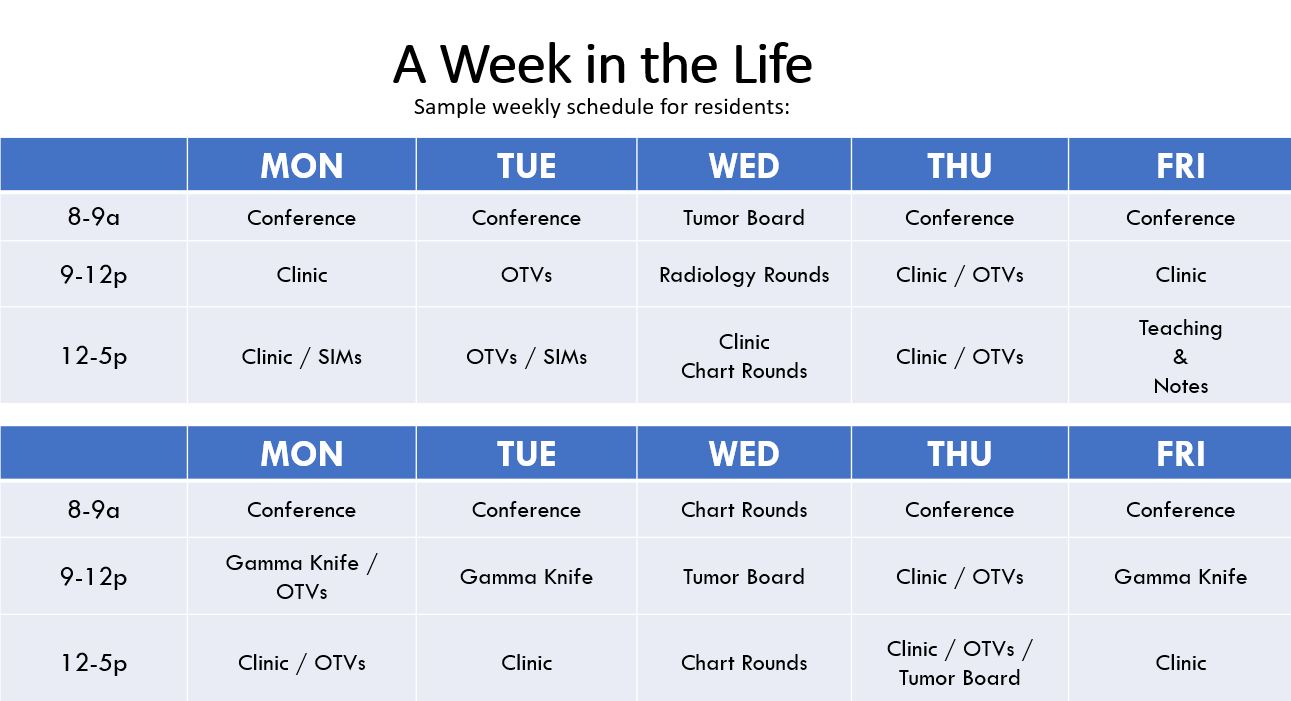 Current and Former Residents
The Department of Radiation Oncology annually matches 3-4 positions in Radiation Oncology which are based at Mission Bay, Mt. Zion Medical Center, and Parnassus Hospital. The Radiation Oncology Residency is a four-year program leading to board eligibility in Radiation Oncology. We generally receive over 150 applications each year and offer interviews to 20-30 applicants. Interviews begin in December and last through the first week of February.
Applications will be accepted via ERAS only. Our application deadline is October 31.
IMPORTANT, please read: 
UCSF_Eligibility_Selection_Policy.pdf
Match 2021_Sample_Agreement_Appointment_Letter.pdf
For specific application instructions, please visit the ERAS website: http://www.aamc.org/
Required application materials include:
Common Application Form
Personal Statement
Medical School Transcripts
USMLE Scores
ECFMG Report (foreign medical graduates only)
Three Letters of Recommendation
Dean's Letter
Program Director: Steve Braunstein, MD, PhD
Associate Professor and Vice Chair
Program Manager: Miriam Gray
University of California, San Francisco
Department of Radiation Oncology
Phone: 415-514-2345
miriam.gray@ucsf.edu
For additional information, please contact the Program Manager